The Georgian Mandolin Project is about experiencing the mandolin music of the Georgian period in the spaces it was written for. The resonance of the architecture provides an experience, which touches the body, mind and spirit in a way that no other environment can.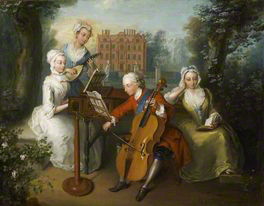 Frances plans to visit as many Georgian properties as possible throughout Britain and to play 18th century mandolin music in these buildings. She will play on her baroque mandolin, a copy of an Antonio Vinaccia previously displayed at the Victoria and Albert Museum, and she will wear a blue silk Regency dress created for her by the award winning costume designer Andrea Galer.
Another integral aspect of the project is that Frances is undertaking research in which a picture is emerging that the mandolin was a much more mainstream instrument than previously thought. Women tended to be pictured during the 18th century playing plucked string instruments, as they were considered visually elegant and more appropriate. The harpsichord was an obvious favourite and the now obsolete English guitar was also favoured in many portraits. The latter was easily learned and no art music was written for it. The mandolin, however, enjoyed a higher status through sharing the fingering and often repertoire of the violin. (Many manuscripts of sonatas and duets state that they may be played on either instrument.) Lady Caroline Curzon is pictured at Kedleston Hall playing a mandolin in a portrait by Arthur Devis. Princess Amelia (daughter of George II and identified sometimes as Princess Caroline) is featured playing the mandolin with her siblings in a painting by Philip Mercier. It seems that the privileged and musically talented embraced the mandolin as an alternative to the harpsichord.